Manif de casseroles en solidarité avec les Algonquins
(english below)
Du Lac Barrière à Montréal, solidarité contre la répression policière!
Manif de casseroles en solidarité avec les Algonquins qui défendent leurs terres!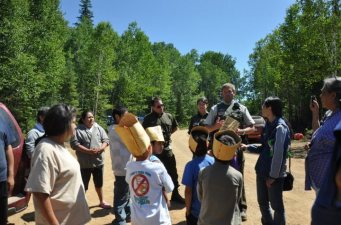 La semaine dernière, Resolute Forest Products (anciennement connue sous le nom d'Abitibi Bowater) a commencé la coupe à blanc d'un territoire ancestral des Algonquins du Lac Barrière, à cinq heures de route au Nord de Montréal. Sur ces terres sont situés un lieu sacré pour les Algonquins, des terrains de chasse et une importante aire de refuge et de naissance pour les orignaux. La compagnie forestière et le gouvernement ont ignorés les demandes répétées de consultation adressées par la communauté, méprisant les jugements de la Cour suprême et les résolutions de L'ONU sur les Droits des Autochtones, qui demandent explicitement l'implication des communautés dans l'exploitation du terrotoire ancestral.
Au lieu de dialoguer avec la communauté, le gouvernement a envoyé une escouade anti-émeute de la Sûreté du Québec (SQ) pour soutenir la compagnie, et menace d'arrestation les familles qui campent à proximité du site de bûchage.
Les Montréalais qui appuient la population algonquine du Lac Barrière appellent à une manifesation de casseroles sur l'heure du midi devant les bureaux de la compagnie forestière. Nous demandons à la compagnie de cesser ses coupes et de consulter le peuple de Barrier Lake. Après cette démonstration, nous continuerons notre marche vers les bureaux de Jean
Charest, pour protester contre la criminalisation des luttes populaires par le gouvernement québécois. Le mouvement des casseroles montréalaises s'enracinent dans le rejet de la loi 78 par la population, le rejet de la criminalisation du droit à la liberté d'expression et le rejet de la répression policière. Pour la population Autochtone, la lutte contre la criminalisation et la répression de leur communauté dure depuis des générations, et s'enracine dans leur combat constant pour défendre leurs
terres.
Non à la criminalisation des luttes populaires!
Solidarité avec les peuples Autochtones qui défendent la terre!
Solidarité avec les Algonquins de Lac Barrière!
Pour plus d'informations, visiter
Contacter:
***********************************************
**Please Distribute Widely!**
From Montreal to Barriere Lake: Solidarity against police repression
Casserole Demo in Solidarity with Algonquin Land Defence
Last week, Resolute Forest Products (formerly known as Abitibi-Bowater) began active clear-cut logging on the traditional territory of the Algonquins of Barriere Lake, five hours north of Montreal, on lands that include a sacred site, hunting grounds, and an important moose breeding area. The logging company and government have ignored repeated demands
by the community for consultation, despite Supreme Court rulings and the UN Declaration on the Rights of Indigenous Peoples that require this kind of community participation.
Rather than talking with the community, the government sent the riot squad of Sûreté du Québec (SQ) to enforce the continuation of logging, and threatened to arrest the families who are currently camping near the logging site.
Montreal-based supporters of the people of Barriere Lake are calling for a lunchtime casserole outside of the logging company's offices to demand that they stop their logging and consult with the people of Barriere Lake. After a rally in front of the logging company's office, we will continue towards the office of Premier Charest, to protest the criminalization of popular struggle by the government of Quebec. Casseroles began in Montreal as a rejection of attempts by the
government to criminalize the popular movement of the students through Law 78 and police repression. For indigenous communities such as Barriere Lake, the struggle against the criminalization and repression of their communities has been ongoing for generations, as they struggle to defend their land, culture, and identity.
No to the criminalization of popular struggle!
Solidarity with Indigenous people defending the land!
Solidarity with the Algonquins of Barriere Lake!
For more information, visit
Contact: